Welcome to Ktima Anastasia
Ktima Anastasia, Nea Tiryntha, Nafplion, Argolida is made up of five open plan self-catering studios and one self-catering apartment with separate bedroom all sleeping 1 – 4 persons in private olive groves of 6 acres.
Close proximity to Nafplion (the first capital of Greece) and archaeological sites of the Argolida and more generally the Peloponnese area make Ktima Anastasia a great choice for holidays in Greece. Close to nature whilst also just a few minutes from local amenities and beaches and, designed with luxury in mind Ktima Anastasia is the perfect blend for tourists all year round who would like to combine the traditional culture of Greece, agrotourism, beach holidays and a peaceful relaxing break together with top quality accommodation and personal service.
Reviews by our guests
It was a great experience! we arrived late in the evening but there were no problems. The host was kind and willing to help. She suggested us the best taverna to have dinner and she also explained us all the streets to reach the places in the area like Micene. Communication was simple thanks to her english. Room was clean and well equipped, terrace was large and perfect to chill out and put our washed clothes out. So, we warmly recommend this stay!

Quiet location situated in olive groves with approximately 10 minutes drive to the centre of Napflio. Very good facilities and excellent host whom made us feel most welcome!

Strongly recommended for leisure and relaxation with very friendly owners, ready to help.» Everything was just perfect...

Landlady was extremely friendly polite, ready to answer to all our questions about the whereabouts-she told us all the hotspots for eating, swimming, sightseeing etc. Location was excellent and quiet, rooms were spacey, and very clean and well equipped. Instrongly suggest this hotel and I will definitely visit again!

Landlord is really, really kind. Nice place to relax with a large balcony inside a landscape of olive trees. Has a free space to park your car. It looks like you'll need a car to go to city center but it's 5 minutes close. You can shop in city center & use the kitchen in your room or you can free-call a place in the village for toast/tea breakfast. Free Wi-Fi /w high quality signal.

Enough space for the 2 of us in a studio. The room was cleaned daily. Bed very comfortable! The balcony is just perfect for a little extra space or just for having a meal out. Very helpful stuff. One can request anything and they are happy to help you. They provided us with a lot of touristic info and also info of different very good local places to eat.

This is a perfect place if you like peace and quiet. The size of the room was perfect. The bathroom was big and the bed was comfortable. The kitchen had everything we needed and even more. We had a big balcony with a really nice mountain view were we had our breakfast every morning. In the evening you could see the stars and hear nothing. we had a great time. Madam Viki was helpful and has a great smile. Thank you for a great time.

Hübsches Studio (Selbstversorgung) mitten im grünen Olivenhain und herrlicher Landschaft mit großer, eigener Terrasse und allgemein nutzbaren Park. Ein super guter Ausgangspunkt für Entdeckungen auf dem Peleponnes. Ob die nahe gelegene Stadt Nafplion, Mykene oder Epidauros ist jeder Ort sehr gut mit dem Auto erreichbar. Die Begrüßung der sympathischen Vermieterin war sehr herzlich und eine um Stunden verspätete Anreise (vorher allerdings telefonisch angekündigt) war gar kein Problem. Jede Menge Unterstützung und Tipps konnte man sich jederzeit abholen. Das Preis/Leistungsverhältnis ist ausgezeichnet. Wir kommen gerne wieder und ich kann diese Unterkunft nur empfehlen.

Große Terrasse, ruhige Lage, für uns günstig Lage, um alle Ziele zu erreichen. Gut ausgestattete Küche. Ich würde jederzeit wieder kommen. Sehr netter Empfang, sehr ruhig, tolle Terasse, sehr guter WIFI, viel Platz im grossen Zimmer und auf der Terasse; nett und funktionell eingerichtet.

"The location was ideal for us as we wanted a quiet place with easy access to the town and the surrounding countryside. The host was always with a big smile and very friendly, helpful in all our questions or needs. The apartment was cleaned every day and, as it is the season, a bowl of oranges and mandarins, from their garden, was placed in the kitchen."
Rooms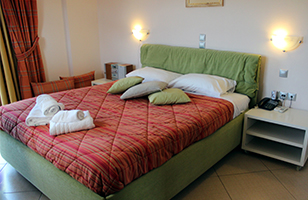 Two rooms for 1-4 people and four Studios for 1-2 people. In close proximity to the old Nayplio town and very close to ancient city of Tyrintha, visitors enjoy the beautifull mediterenean hospitality and great beaches that Greece has to offer.
Offers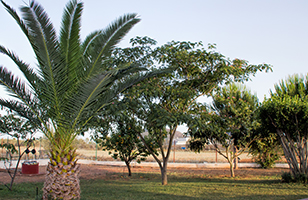 20% off for bookings of 7 days or more. Included: free WiFi and free
car parking. Self-catering.
Stay 3 nights Pay 2 Included: free WiFi and free car parking.
Self-catering.
Stay 4 Nights Pay 3 Included: free WiFi and free car parking.
Self-catering.
Ask us about our offers.We will be glad to inform you.
On-line Booking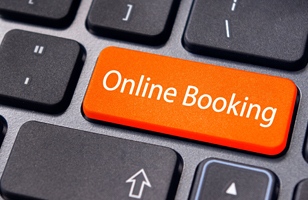 Book  online through our page and take advantage of our special offers. Each type of accommodation offers a light, spacious bright atmosphere and we have tried to anticipate your every need with the amenities available.  Each accommodation has either patio (on the ground floor) or large balcony (on the first floor) with spectacular views of the Palamidi Castle.
Ktima Anastasia Amenities
5 Open Plan Studios & 1 one bedroomed apartment
Parking
Free Internet Access
Hot Water 24hrs a day
Safe environment for children
Peace and Quiet
Hairdresser (by appointment)
Manicure/Pedicure (by appointment)
Dry Cleaning (by arrangement)
Pet Friendly (by arrangement)
Childrens Play Area
We are able to organise car/motorcycle rental
Advice on the area and archaeological sites of the Argolida and also on places to eat
In Nea Tiryntha at a distance of 800m one can find supermarkets, butchers, bakers, tavernas, cafes and pharmacies
5 mins from Nafplion
Open All Year Round
Special Prices for Business Travellers/organisations/educational tours and long stays
Agroktima Elia
See also our other accommodation "Agroktima Elia" located near …
Agroktima Elia, meaning Olive Farm, offers studios, apartments and one large maisonette set in grounds of one and a half acres, full of olive trees and with wonderful views of Nafplion and the surrounding countryside just 5 minutes from Nafplio, the first capital of Greece
INFORMATION LEAFLET FOR ACCOMMODATION GUESTS ON THE COMPLIANCE WITH THE HEALTH PROTOCOL IN TAKING MEASURES AGAINST THE CORONAVIRUS COVID-19
Training Certificate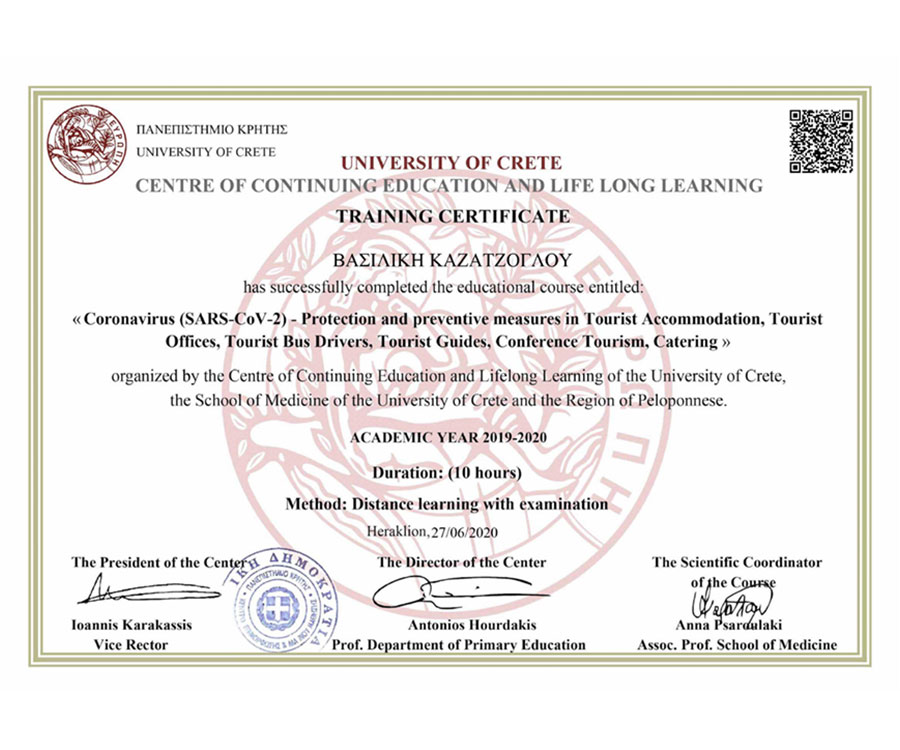 Health First